I am so excited it's Halloween! it is my very favorite holiday and I absolutely love any excuse to dress up! This year I didn't have much time to think ahead and so I made my costume on a whim. I love the way it turned out though! Sometimes it's those quick projects that turn out the best!
Once you've made Holly's sleeping mask and ear plugs, the rest of the costume is super easy! I just borrowed a white dress shirt from my boyfriend and my outfit was complete! You'll want to find a fairly large dress shirt to actually cover you up if you plan on wearing this out. My boyfriend's shirt was not very long so I put some white shorts on under it so I didn't feel so exposed.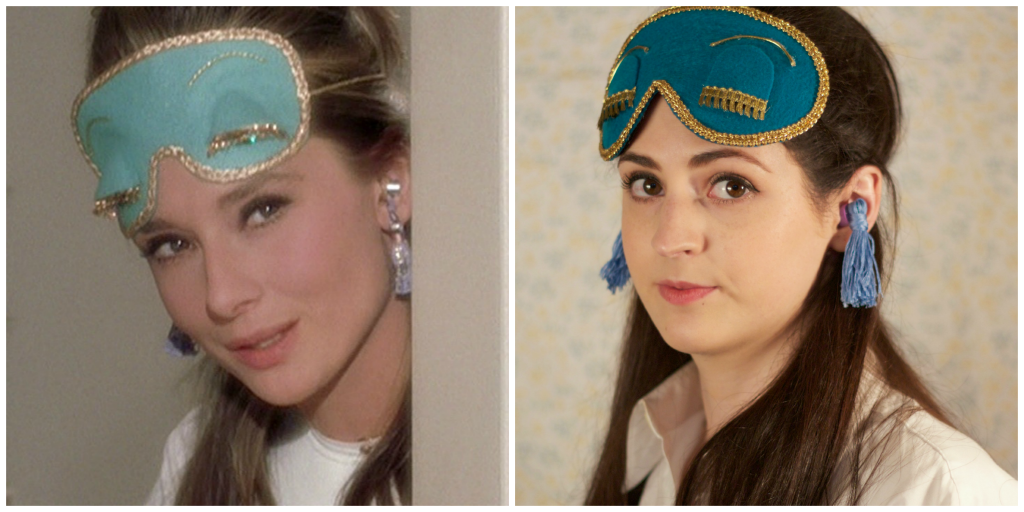 Now that your costume is ready it's time for hair and makeup! Holly's hair is fairly simple. I just straightened my hair and then grabbed the top half of my hair (above the ears and up) and teased it in the back to add a bit of height. Next, I gathered my hair into a half up hairstyle and secured it with a hair tie. Since I have very thin, fine hair, I knew I didn't have enough hair to twist mine up like hers in the back. Instead, I took the top section of the hair I gathered into the hair tie and twisted it around (like a messy bun) and secured pieces to my head with hair pins. This made it look like I had more hair and also gave it the slightly messy bed head style that she has going on. When you are satisfied with your hair, be sure to blast it with hairspray to keep it in place! Slip the mask on over your hairstyle and secure or tie in the back.
Holly's makeup look for this part of the movie is all about being glamorous while still keeping everything very natural. I ended up really liking this makeup look and it's actually quite similar to my every day makeup style. Below I'll share how I achieved her makeup look and list the products I used.
First off, I prepped my skin with a primer. I find that using a foundation primer keeps my foundation in place and also allows the foundation to go on smoother. I applied foundation to my skin with a makeup brush. I find using a makeup brush gives my skin that flawless finish. I then used a concealer to cover any blemishes and to cover the dark circles under my eyes. I used a large powder brush to sweep a pressed powder over my whole face to set my foundation and keep my skin matte. Holly has very light eyebrows but since mine are so dark and unruly I had to fill them in with a brow powder and set them in place with a clear mascara. I also applied a light pink blush to the apples of my cheeks to get the soft flush she has in the movie. The blush I used was from
The NYX The Crimson Amulet Dark Shadows Palette
.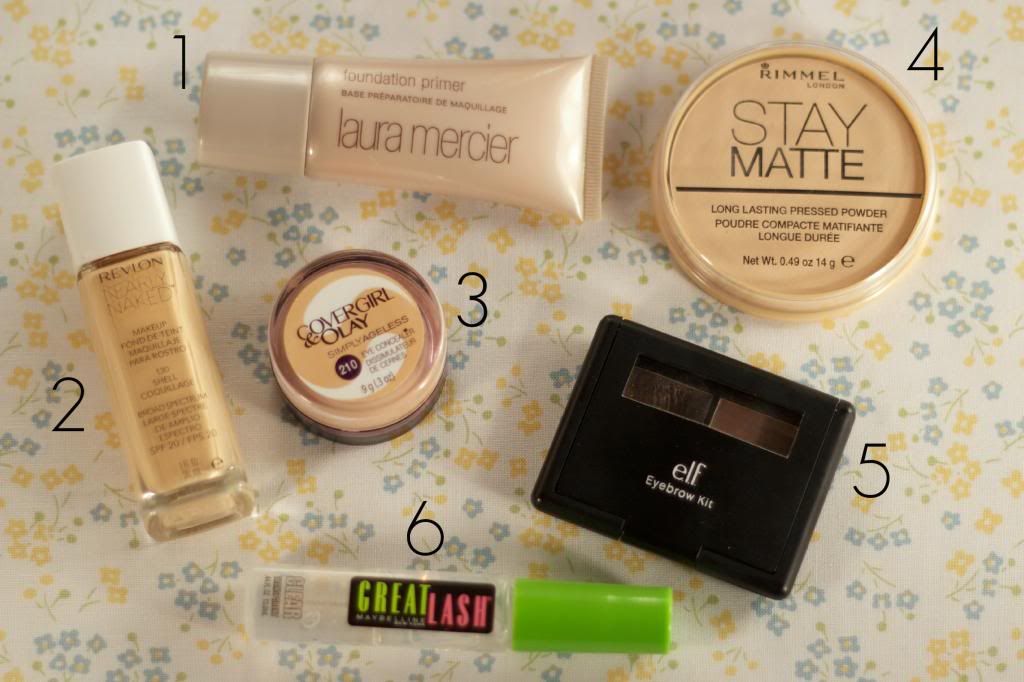 1.
Laura Mercier Foundation Primer
2.
Revlon Nearly Naked Foundation in Shell (130)
3.
Covergirl & Olay Simply Ageless Eye Concealer in 210
4.
Rimmel London Stay Matte Pressed Powder in Translucent
5.
e.l.f. Eyebrow Kit in Medium
6.
Maybelline Great Lash Mascara in Clear
(used to set brows)
The blush I used is in the top right corner of the palette.
Now that your skin looks flawless, let's move on to the eyes. I first applied the Maybelline Color tattoo eyeshadow in Bad to the Bronze to my lids. This not only gave my lids that slightly bronzed shade but served as an eyeshadow primer. I also took this same color and using a small makeup brush, applied it along my lower lash line. I then went over my lids with a light taupe/brown shade and followed it up with a gray shadow on the lid close to the upper lash line. To make my eyes stand out more, I highlighted my brow bone and inner corners using a white shadow and lined my lower waterline with a nude colored eye pencil. I used a liquid liner for my eyeliner as I love the staying power of a liquid eye liner. I just made a thin line across my upper lash line and made a slight flick at the end to give my eyes that slight 'cat-eye' effect. I usually apply a black shadow over my eyeliner when I'm done to soften the look and set the liner. Finally, I curled my eyelashes and applied two coats of mascara on my top lashes and one coat on the bottom. You can always apply fake lashes to get Holly's full voluminous lashes but I preferred the way mine looked without.
1.
Maybelline Color Tattoo Eyeshadow in Bad to the Bronze
2.
Bed Head Make-Up Marker in Black
3.
Maybelline The Falsies Volum' Express Mascara in Black Drama
(bottom lashes)
4.
Covergirl LashBlast Waterproof Mascara in Very Black
(top lashes)
5.
NYX Love in Florence Palette in Ciao Bella
(black shadow)
6.
Rimmel London ScandalEyes Waterproof Kohl in Nude (005)
I used the
NYX The Crimson Amulet Collection Dark Shadows Palette
for the eyeshadows.
1. Lid color
2. Lash line color
3. Highlight color
To finish the look, I applied some highlight to my cheek bones, added a bit of color to my lips and finally sprayed my whole face with a setting spray to make sure my makeup doesn't budge all night.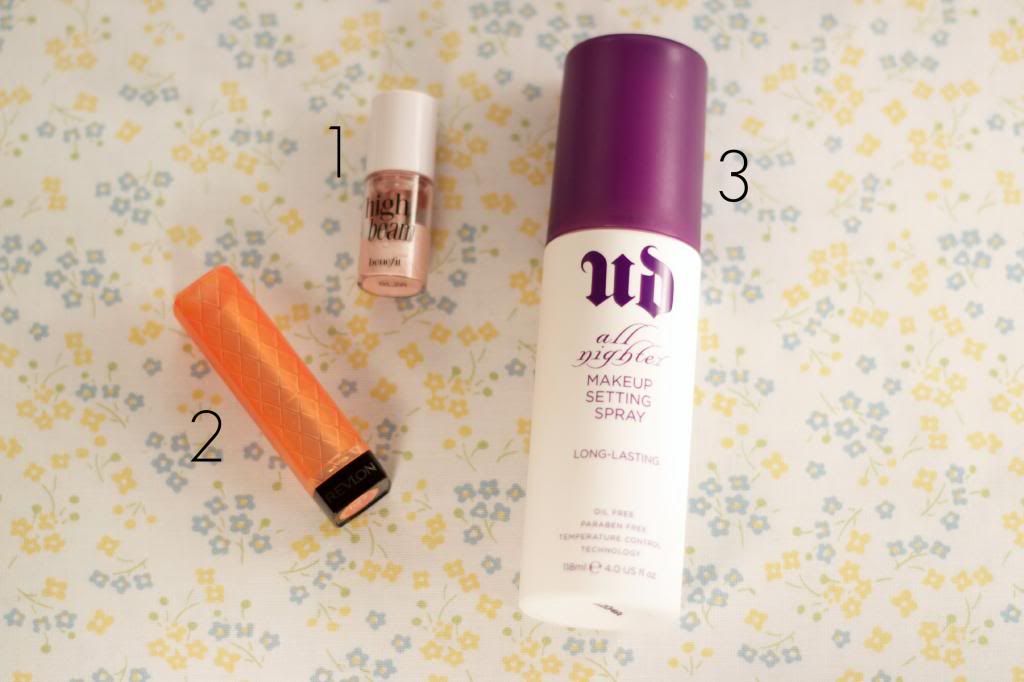 1.
Benefit High Beam Highlighter
2.
Revlon Lip Butter in Juicy Papaya
3.
Urban Decay All Nighter Makeup Setting Spray
Now you're all ready for Halloween! Or perhaps breakfast at Tiffany's?
Have a fabulous holiday and be sure to eat lots of candy!
Thank you for reading!