When I saw the new Essie collection, the color I had to have was
Fashion Playground
. It's a gorgeous mint green color with a slight shimmer to it and it is beautiful! I had to try it on my nails as soon as I brought it home.
I find that the color is true to the bottle although the shimmer isn't as noticeable on the nails as it is in the bottle. It took me about 3 coats for it to be as opaque as I wanted but you could get away with 2 coats easily. Since my top coats are making my nails look foggy, I chose not to put a top coat on this time. I caused a few slight chips right after painting (story of my life!) but I've had the polish on a couple of days now and haven't had any further chipping happen.
(seriously hand/finger photos are so creepy...sorry guys!)
I noticed that a lot of people were mentioning that this color seemed similar to Essie's
Mint Candy Apple
so I thought I would do a quick comparison.
Essie's website states that Mint Candy Apple is supposed to be a mint green shade but I find it to be very blue when compared to Fashion Playground. In fact, I don't remember it being so blue until I put the shades side by side. Fashion Playground is definitely a true 'mint' shade while Mint Candy Apple strikes me as more of a light 'Robin's egg' shade. I've always thought the colors of the polishes on Essie's website seem to differ a lot from the actual bottle colors. Has anyone else ever noticed that? Just me?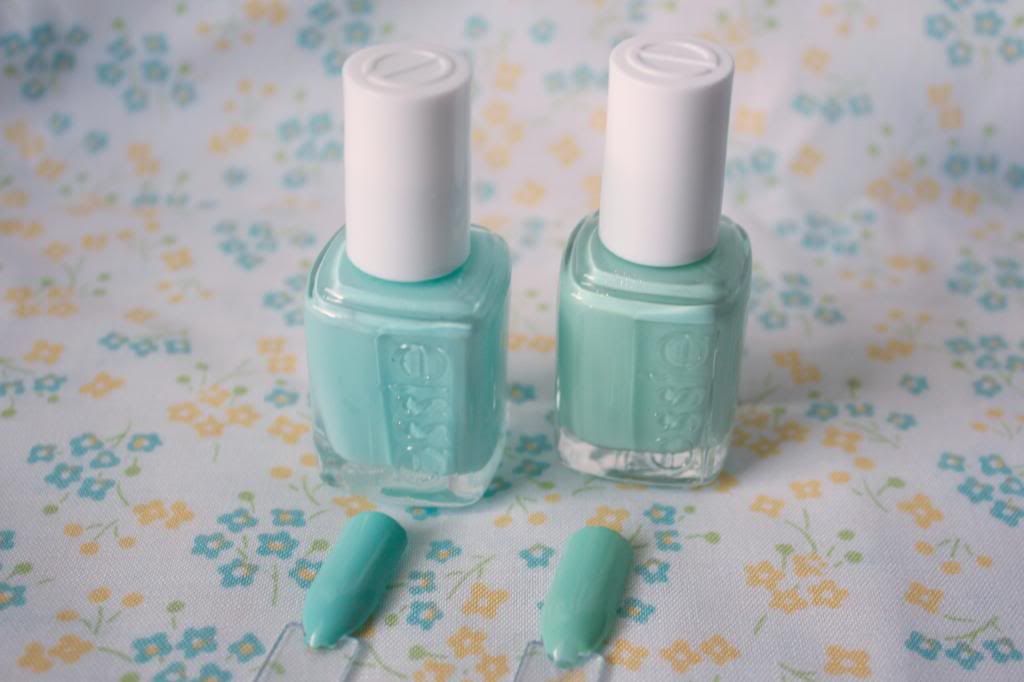 I find that Mint Candy Apple also dries to a slightly more matte finish while Fashion Playground has quite a bit of natural shine (due to the shimmer I suspect). I think they both look so pretty on and are both worth having in your collection! I'm all about the pastel colors during Springtime!
Have you tried any of the Essie Spring 2014 collection yet?