When it comes to my nail polish collection, I find that it is predominately made up of Essie colors. Somehow each time Essie comes out with a new collection I can't help myself and I have to have them all! I do have a few other brands thrown in the mix and Revlon is starting to climb my list of favorite polishes. Not only is their new nail enamel collection
'Evening Opulence'
amazing (seriously, I love all of those shades!) but I love the formula of their polishes.
I was browsing Ulta one day, looking for a deep green nail polish for Fall when I stumbled across Revlon's Colorstay collection. There were a few greens to choose from but when I saw the color 225
'Jungle'
I knew it was the Fall green I had been looking for. The Colorstay polishes claim to be long-wearing which I appreciate as I HATE chipped nails. It drives me insane and I have to either remove my polish or touch it up as soon as possible. Revlon was also having a sale going on so into my basket this gorgeous green nail polish went.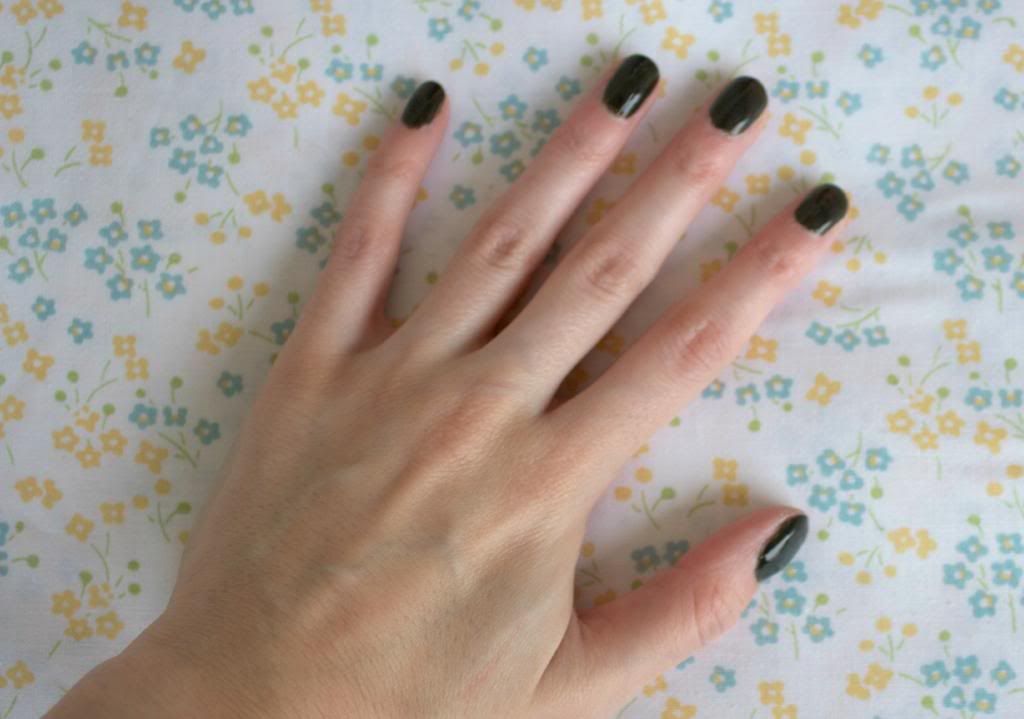 This polish ended up quite dark on my nails, darker than the bottle for sure. It looks to be almost black but with a bit of green tint to it. This was not a problem for me as I was looking for a very dark green in the first place. I painted 2 coats and I probably could have gone for 3 but it tends to feel like my nails will never dry if I add more than 2 coats.
The brush for the Revlon Colorstay polishes is quite nice. I liked that the brush was fairly small and made it easy to get close to the sides of my nails without getting color all over my skin (not that it's ever possible for me to not get it everywhere but I feel like for those of you who are better at painting your nails, this is important). The color went on very smooth and looked amazing when it dried. I'm usually the girl with the marks and lines in her polish because who has time to wait for nails to dry?! With this polish there wasn't a single mark or line on my nails when they finished drying which is truly amazing. As far as shine goes, I put a top coat on immediately after so I'm not sure if the shine I have is caused by the polish, the top coat or a combination of both. I will say that my nails do seem extra shiny so I'm going to assume it's a combination of both.
It's been a few days since I painted my nails and the color is still going strong with NO CHIPS!!! I am seriously impressed with this line of polishes and plan on picking up a few more soon. I currently have my eye on
'Fall Mood'
(obviously!) and
'Midnight'
.
Have you ever used Revlon's Colorstay polishes? Which colors are your favorite?