As much as I like to use and try out various products whenever I do my makeup, I still have my go-to makeup products that I use when I'm doing my every day makeup look. So, I thought I'd share my bag of every day makeup with you today! These are all products I love and would recommend as I use them all the time!
I got this cute pink, white and gold bag in the Dollar Spot at Target. It's supposed to be a pencil pouch but it's lined inside and holds my makeup perfectly.
1.
Revlon Nearly Naked Foundation in Shell
. This is my every day foundation. It applies to my skin really well, stays all day, and feels like I'm not wearing foundation at all. I love it!
2.
Laura Mercier Foundation Primer
. This is the small size that I got with a kit when I bought the Laura Mercier Tinted Moisturizer. I've been using this primer for a couple of years now and I really like it. It goes on smoothly and helps keep my foundation on all day. Since I've been using this primer I haven't had any trouble with 'patchy' foundation.
3.
Benefit Dallas Box Blush
. I use this product as a blush and sometimes as a face bronzer/highlighter. It's not a bronze color but it gives a really nice glow to the face. This stuff looks great during all seasons too!
4.
Rimmel Stay Matte Pressed Powder in Transparent
. This is the best drugstore powder I've used! I've been using it forever it seems and it barely looks like I've touched it. I use this powder to set my makeup every day.
5.
Jane Bronzing Powder in Inspire
. I started using this bronzer last year and I use it exclusively for my bronzer these days. It's a great color for my skin, not orange but not too dark brown either. I like to apply this under my cheek bones, across my forehead and along my jawline.
6.
Physician's Formula Touch of Glow Nude Wear Concealer/Highlighter
. I just started using this stuff this month but I LOVE it. It is amazing and sometimes I just apply a little of this under my eyes and I'm good to run errands for the day. It makes my face look brighter and my eyes look more awake.
1.
E.L.F. Studio Eyebrow Kit in Medium
. To fill in my brows, I just use some of the powder on an angled brush. I then follow the powder with the darker wax in the more sparse areas of my brows. This stuff is SO cheap and lasts forever!
2.
Maybelline Great Lash Mascara in Clear
. I use this clear mascara to set my eyebrows when I'm finished filling them in. I have crazy eyebrow hairs that tend to go all over if I don't tame them with this stuff!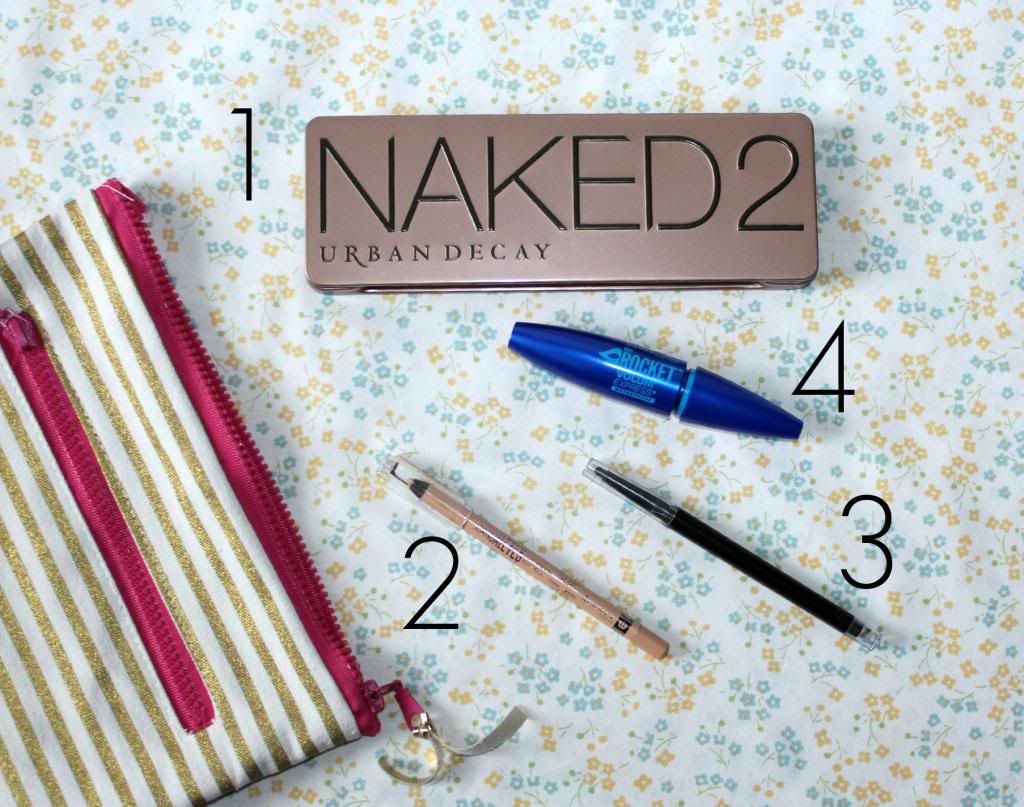 1.
Urban Decay Naked 2 Palette
. I've only been using this for a month but man is it fabulous. I can put together so many eyeshadow looks using it and all of the colors are so gorgeous.
2.
Rimmel Scandaleyes Waterproof Kohl Liner in Nude
. I use this nude liner to line my lower waterline to brighten my eyes. I never forget this step because it is important when making my eyes looks brighter!
3.
Covergirl Perfect Point Plus Eyeliner in Black Onyx
. Guys, I've been using this eyeliner since high school! Some days I'll do liquid liner but for every day makeup, it's always this eyeliner. It's self sharpening, smooth, and has a smudger on the other end. It applies so fast and easy it is almost (
almost
) impossible to mess up.
4.
Maybelline Volum' Express Waterproof The Rocket Mascara in Very Black
. This mascara is a great every day mascara. I really like the consistency of the formula and I find that it doesn't clump. It makes my lashes look really nice but without being over the top which is why it's an every day mascara for me.
Do you use any of these products? What do you have in your every day makeup bag?