April was a great month for products for me as I wore makeup more often. I work from home so most of the time I'm bare faced and in pajamas so it's wonderful when I have occasions to get dressed up for. The thing I love most about my favorites for April is that most of them are products that are easy to apply for a simple and natural look.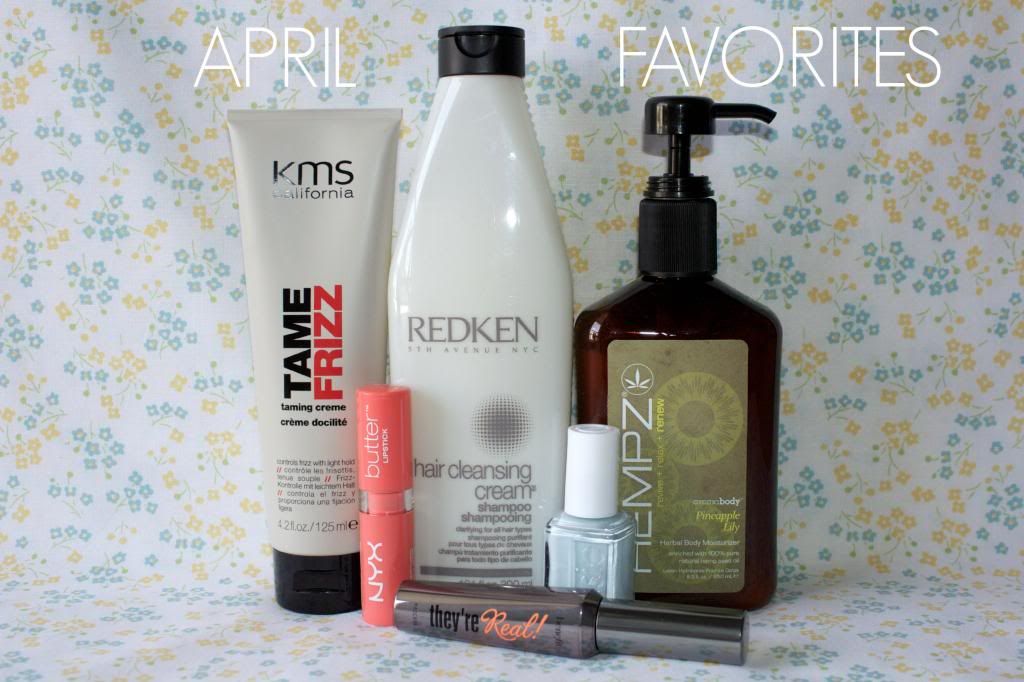 Makeup: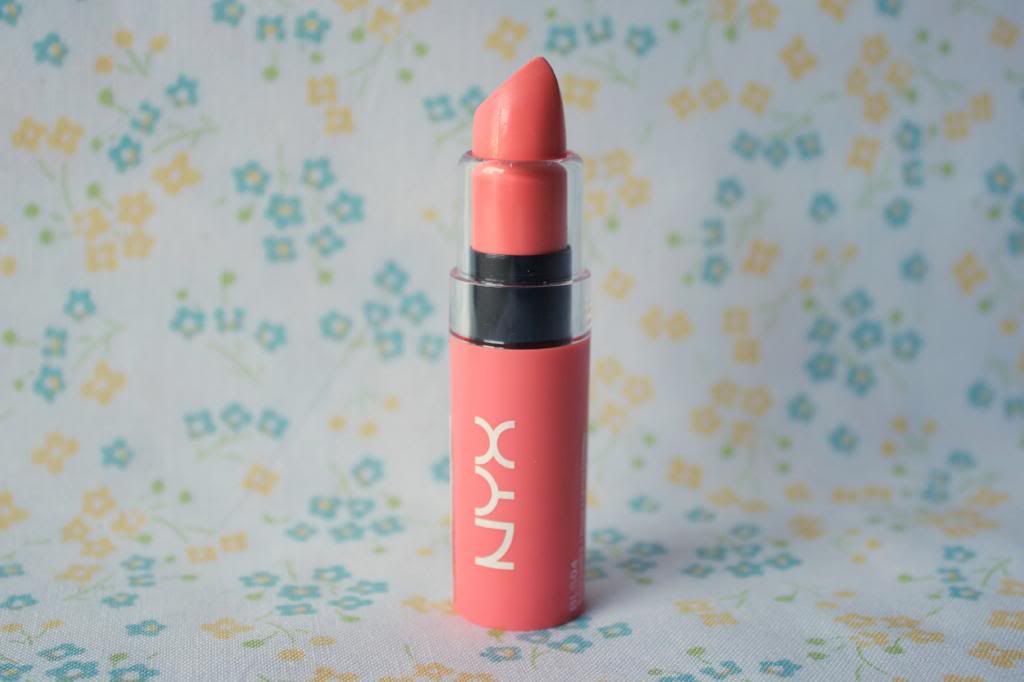 Nyx Butter Lipstick in Lollies-
These butter lipsticks are amazing and I want more of them. They are so smooth and the colors are beautiful. I have 2 of the colors right now but I've been wearing '
Lollies
' a lot since it's a light peachy pink that is perfect for a touch of color. The color 'Fizzies' is next on my list!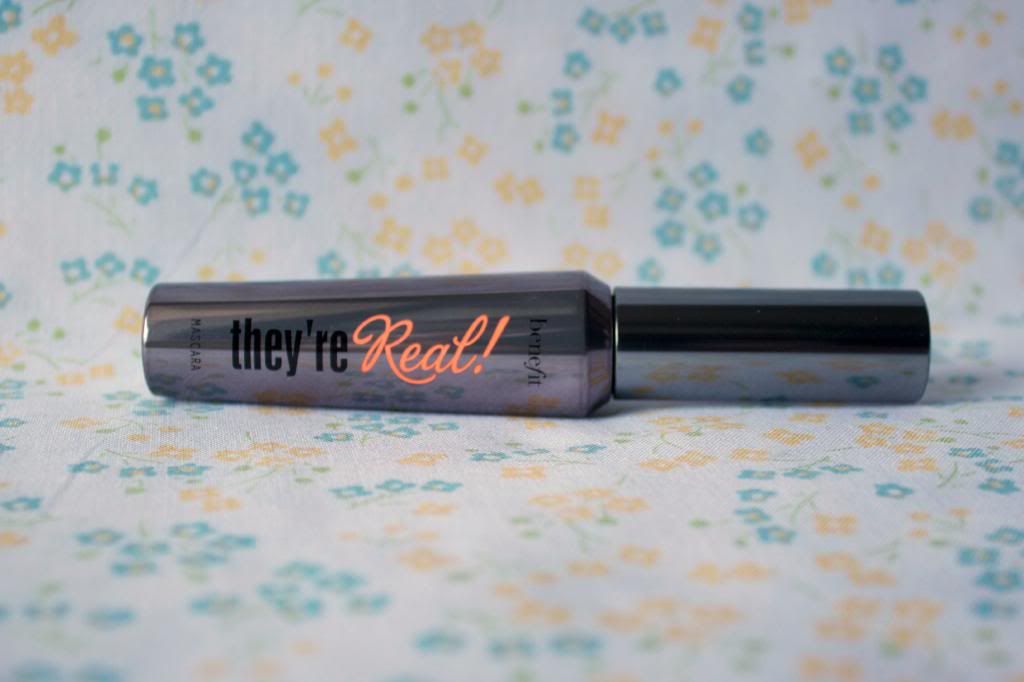 Benefit They're Real Mascara-
I bought
this mascara
a while ago and while I liked it, I didn't like that it wasn't waterproof. I am all about the waterproof mascara so I kind of tossed this mascara to the side. This month I found it again and decided to try it out during the day and I actually ended up loving it! It is great for day time as it doesn't quite hold my curl as well as a waterproof mascara does BUT it does make my lashes look super long. Plus, it was so much easier to remove than I'm used to! ;)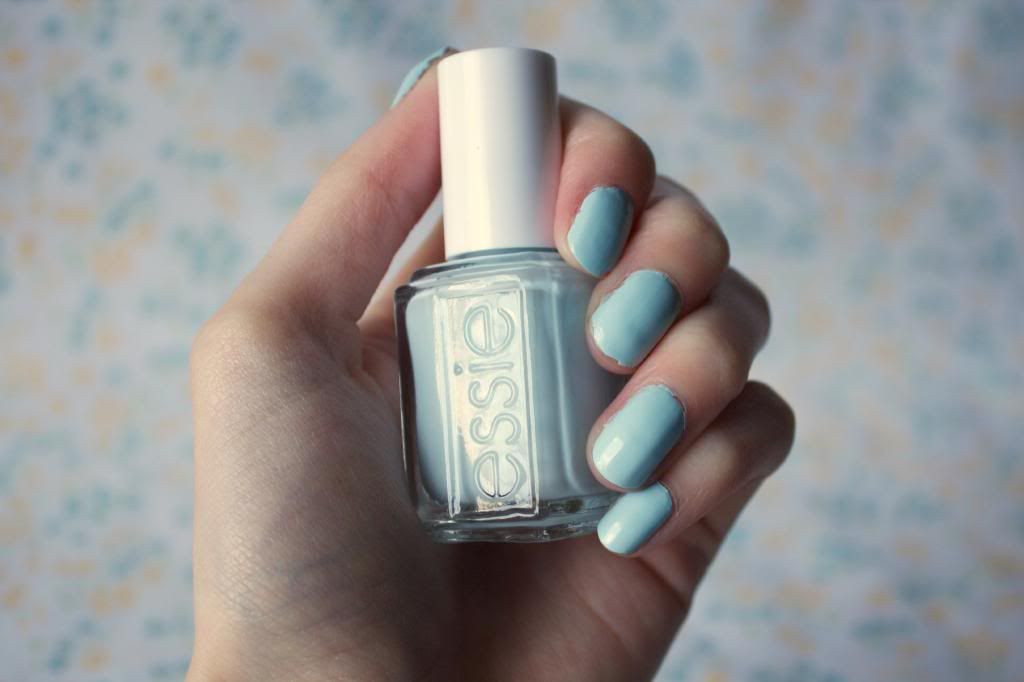 Essie in Borrowed and Blue-
I talked about
this polish
in my
Spring Nail Colors
post as it is one of my favorite nail colors for Spring. It's a beautiful pastel blue and I got so many compliments when I wore it!
Skin Care: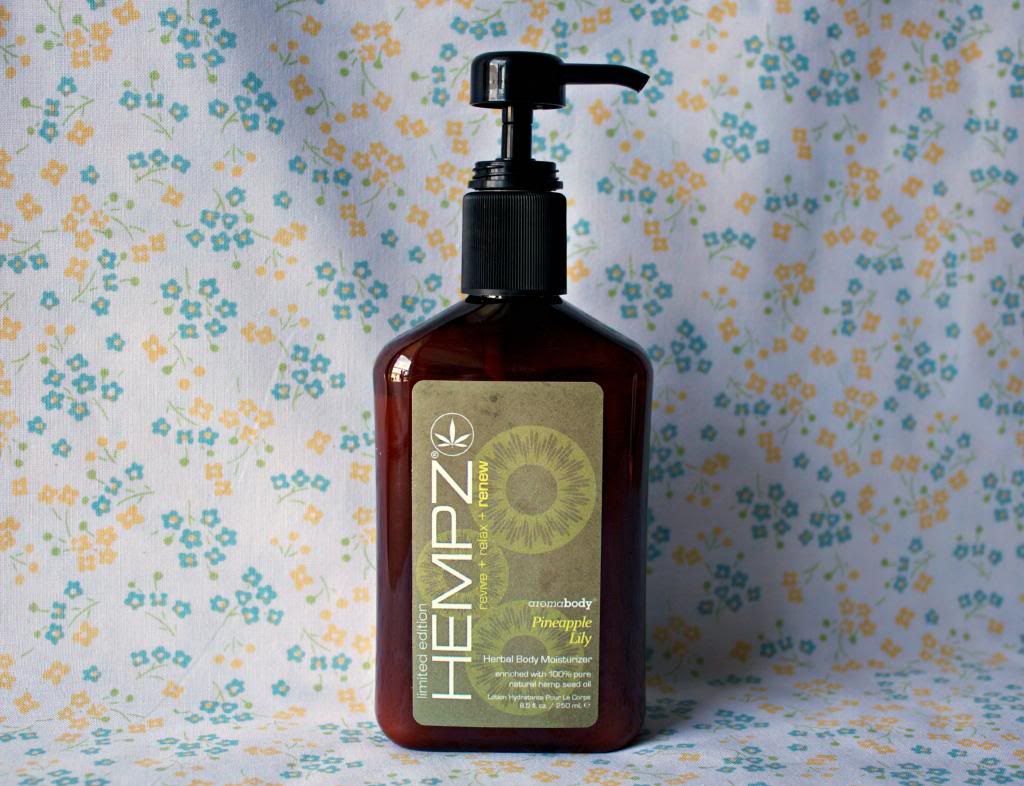 Hempz AromaBody Body Moisturizer in Pineapple Lily (Limited Edition)-
I found this moisturizer in the sale section and I am so glad I picked it up. I have been slathering this stuff all over my body when I get out of the shower and it makes my skin feel so soft. Also, the scent is amazing. Especially if you like smelling like a pineapple. I am so bummed that it is limited edition because I won't be able to get another when I run out! They actually have it on
Amazon
right now but I'm not sure how long it will be in stock.
Hair Care: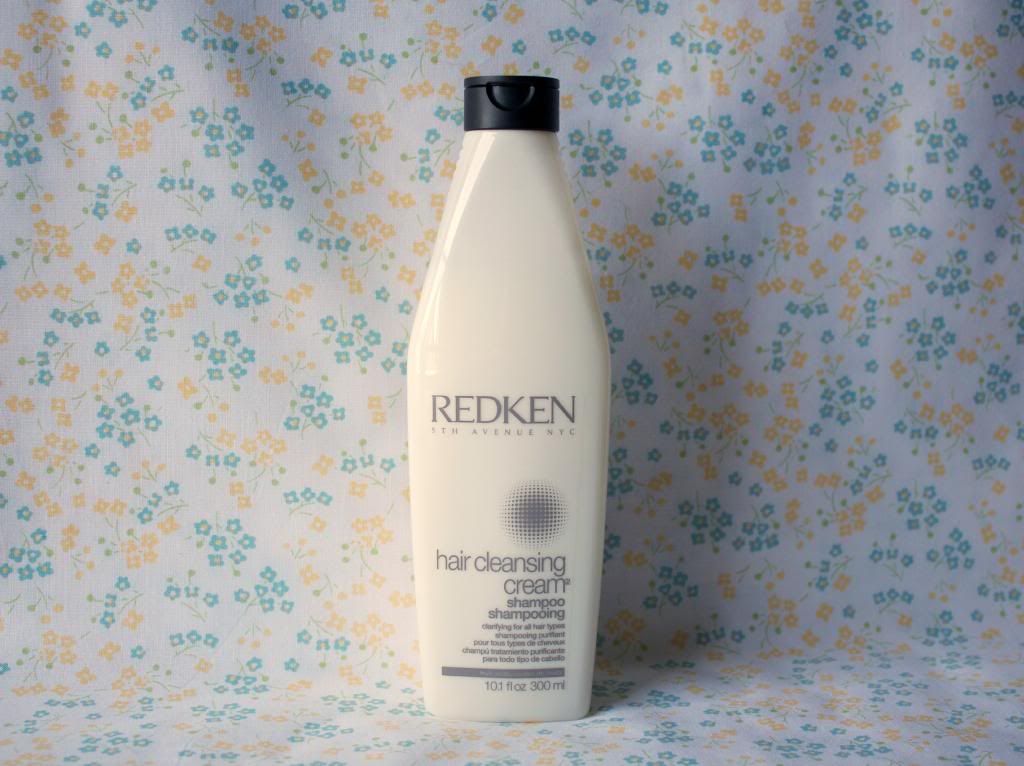 Redken Hair Cleansing Cream Shampoo-
I picked
this
up last month as I've been meaning to find a good cleansing shampoo. I usually use a very moisturizing shampoo but I need something to use every couple weeks to really clean my hair and get rid of any product build up. After using this I fell in love!!! It smells just like fruit Mentos. SO YUMMY! It makes my hair feel really clean and of course, my hair smells amazing after using it. This shampoo will be perfect for the Summer to pull out any chemicals after swimming in a pool.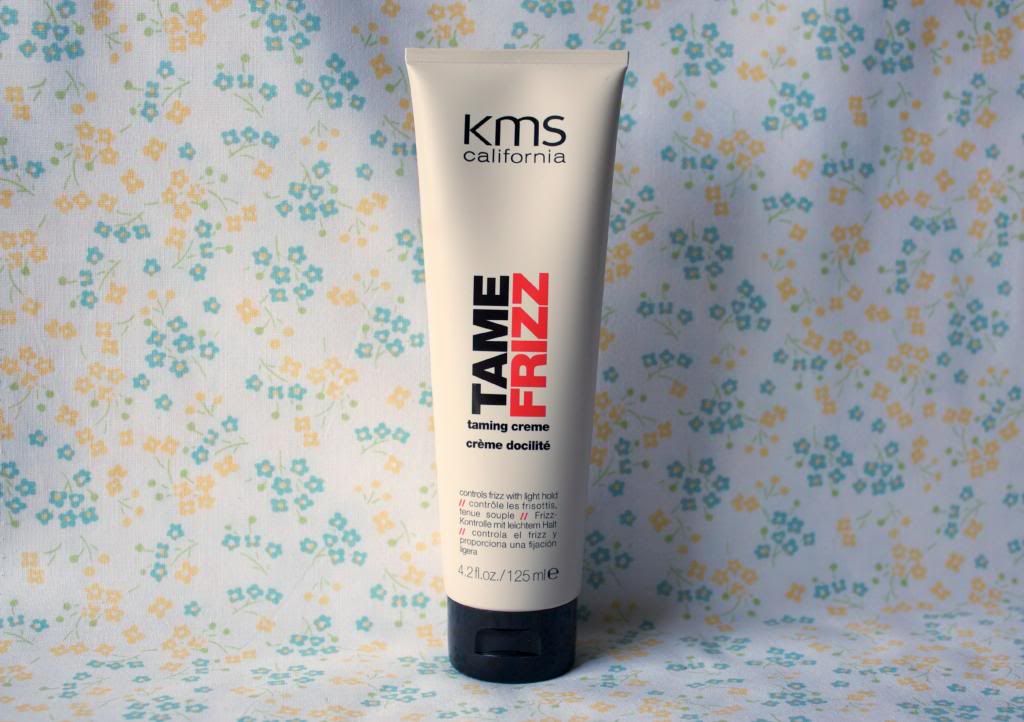 KMS California Tame Frizz Taming Creme-
I wanted to try a new product for my hair now that the weather has been getting warmer. I usually use the
Argan Oil by DermOrganic
(which I still love) but I decided to switch things up. KMS California's Tame Frizz line has a few different options, including an oil, but I chose the
Taming Creme
. This stuff smells amazing and I love how it makes my hair look and feel when I use it before blow drying. It smooths my hair so much and doesn't make it greasy. If you have thin hair like me, I'd suggest keeping it on your ends only. I use so little product each time that this bottle is going to last me forever!
Random:
Book:
I read 4 books last month but my favorite was '
All The Truth That's In Me
' by Julie Gardner Berry. When I first started reading this book, I was super confused because it wasn't at all what I thought it was going to be. The cover and description make it seem like a modern story but it's actually set back in the Colonial days. It doesn't give specific dates but based on the fact that they used a pillory, I think that could put it in 1700-1800's. The writing style is also a bit different but I'm so glad I stuck with it because it was SUCH a good read. I really enjoyed it and highly recommend it if you love historical fiction or mystery novels.
Show:
I'm currently in the middle of SO MANY tv shows. I am such a sucker for tv series and sometimes I overwhelm myself trying to keep up with them all. My boyfriend put on the first episode of
House
while I was picking up a pizza and by the time I got back and started watching too, I was addicted. Now we are on to season 3 and we just love it! Dr. House is my favorite, I love how snarky he is. Every episode his team always disagrees with him and I always scream at the tv "Don't argue with House, he always figures it out!!!"
What were some of your favorite things in April? Can you even believe it is May and Summer is coming?!