To stray slightly from the makeup/beauty posts, here is something a tad more personal...what I carry in my purse on the daily. I love these posts because it's so fun to snoop and see what other people deem necessary to carry in their purse. Since I'm carrying a smaller purse than usual mine isn't as crammed with stuff but I'll be sure to share again when I switch to a larger purse.
This is the purse I'm currently carrying. It's a
Deux Lux
purse that I purchased a few years ago at Urban Outfitters for a trip to Las Vegas. It's actually my 'Summer' purse but I like how small it is so I've kept using it through Fall and Winter this year. I love that it's a cross body purse and I don't have to constantly hold on to it. I don't particularly love the way it closes because it is a pain to pull that strap up to snap it closed every time you use it but I put up with it since it's so cute. I'm also getting a bit sad about the wear that is starting to show on the strap on the front. :(
What's inside?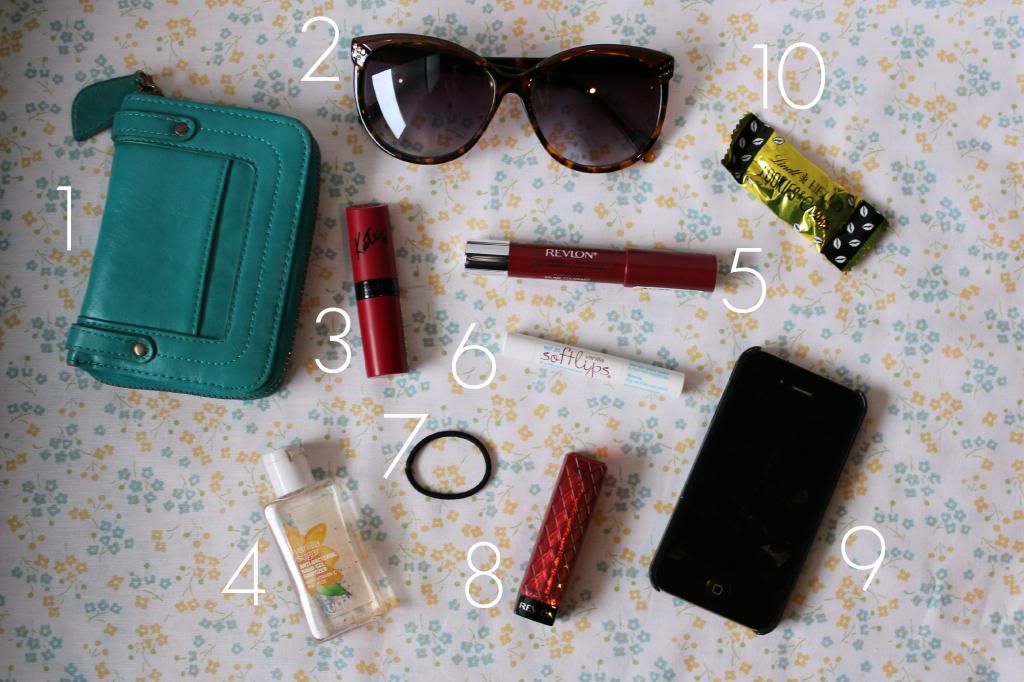 1.
My 'Summer' wallet. It's small and turquoise and falling apart but it gets the job done! I bought it specifically to put in this purse since my regular wallet is gigantic. The brand is Cooperative and I got it at Urban Outfitters.
2.
My current sunglasses. I got them at Nordstrom for about $12 a few years back and they are still in one piece! My mom actually got me some super nice sunglasses for Christmas but I'm terrified to use them since I'm used to having cheap sunglasses. I'll probably switch to my nice ones when it gets sunny out again.
3.
Of course I keep my
favorite lipstick
of the season in my purse at all times!
4.
Hand sanitizer. I don't use it as often as I should but my boyfriend is always asking for it so it's useful!
5.
Revlon Just Bitten Kissable Balm Stain in Smitten. Such a gorgeous color! Easier than lipstick but gives my lips some color when I need it.
6.
Softlips. My lip balm of choice. Must have this at all times.
7.
A hair tie.
8.
Revlon Lip Butter in Red Velvet. Oh you know, just have to have multiple red lip options.
9.
My iPhone. An obvious essential.
10.
Chocolate. Duh. You carry chocolate in your purse too, right?
So, what do you carry in your purse? If you've done a post like this please leave a link below so I can check it out!